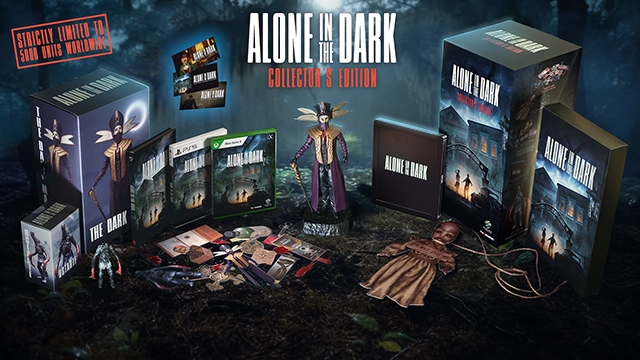 Check Out the Alone in the Dark Collectors Edition
I have to admit that I do not buy as many collector's edition box sets, as I have moved a lot of my collection to digital. It seems that happens when you go with several Xbox Series S consoles in your house/workplace. If you have no disc drive, you can't really use the disc that comes with the collectors box. That said, I always tell myself how much I want collectors editions, and the Alone in the Dark collectors box set is no different.
This Alone in the Dark collectors box looks to go for $199.99 at partner retailers and includes a 10″ Dark Man figurine, a 4″ Ostadte figure, stickers, a glow in the dark steel case for your game, a "Do no Disturb" door hanger that looks like a creepy baby, three different DLC packs, and, oh yeah, a copy of the game.
Don't take my word for it though. Check out the video below to get a feel for everything in the collectors edition of Alone in the Dark. Note that you might have to jump on this edition quick, as they are being limited to a 5000 count run. The Alone in the Dark Collectors Edition will be released for the PC (only in the UK sadly), Xbox Series X, and the PS5. You can learn more about Alone in the Dark right here!